Markle Associates
Irish Railway Videos
French Narrow Gauge Railway Videos
Site last updated 1 December 2020

---
Markle Associates make and sell a range of videos on Irish and French subjects.
---
We are working on a new project, but with the present situation this is not likely to appear before mid-2021. Meanwhile all existing DVDs are still available.
Please note that the payment any on-line purchase via this site is processed by PayPal. No credit card details are held by Markle and the PayPal security processes apply. We do not ask for any details other than your email address and what DVD you require. As an alternative we accept cheques and postal orders.

---
Click the page you wish to see from the table below.
Irish Railway Archive series - 6 DVDs covering CIÉ, IR & IÉ from 1970s to around 2010
Northern Ireland Railways Archive - 4 DVDs covering 1970s to around 2010
Irish Railway Review Series - 11 DVDs, one a year 2000 to 2011.
French Narrow Gauge - 2 DVDs, one on public lines, one on 3 tourist lines.
---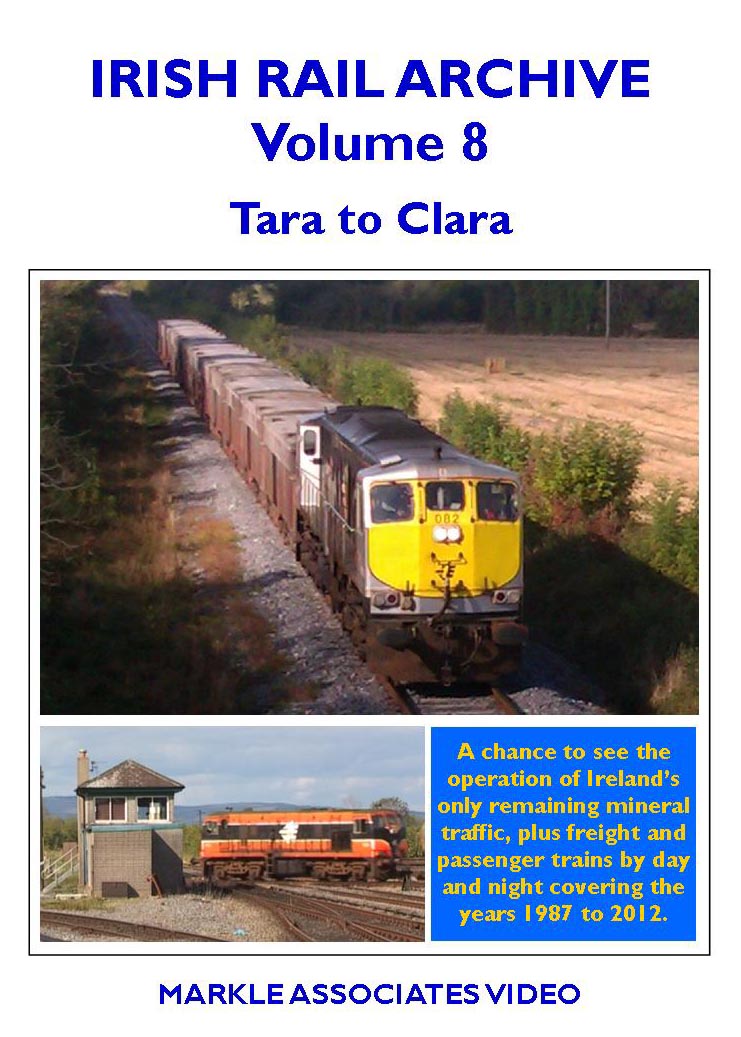 Available now - Irish Archive Volume 8 - Tara to Clara
This DVD is yet another delve into the recordings made by Irish railway enthusiasts.
This time it covers the period 1987 to 2012.
With most Irish passenger trains now in the hands of railcars, we thought it would be the right time to savour an era when the locomotive was king.
There is a major feature on the Tara Mines Trains, Ireland's only remaining mineral traffic carried by rail. We also see, coverage of our exploits recording trains in the twilight "The Starburst Years", views of Cement Traffic, now lost to rail. The IE Relaying Trains using Donelli system are put under the microscope, both in detail in their latest version and back in 1987 when we found an earlier version in operation on the Cork Main Line. We also pay a visit to Attymon and Dunsandle in County Galway, where the latter now hosts a small collection of railway exhibits, and finally we look in at Clara, where freight and passenger trains still pound past the single platform.
This video features coverage of the following locations - Alexandra Road Tramway in Dublin, Attymon, Beauparc, Birdhill, Buttevant, Cherryville Junction, Clara, Drogheda, Duleek, Dundrum, Dunsandle, East Wall Junction, Howth Junction, Kilsheelan, Limerick Junction, Navan, Port Laoise, Rush and Lusk, Sallins and Naas, and Tara Mines.
This DVD is made in Widescreen (16 x 9 or 14 x 9) format.
Running time about 69 minutes approx. Price £16.95. Available now.
Price £16.95. Post and packing £1 per order (UK) £3 per order (outside UK)
To order by post or to find stockists, click on "How to Order and Where to Buy" link above.
---
Latest
1. Price and Postage
All DVDs are now £16.95 (except Narrow Gauge France and Corsica 1&2 which is £18.95 for a double DVD).

UK Postage Currently £1.00. We now have to pay £3.00 for postage to Europe and £3.50 for North America and Australia. Note that this is still PER ORDER, and not per DVD, so the more you buy in one order, the less the postage cost for each one.

2. Payments
You can browse this site without buying anything. If you wish to buy, please e-mail us with what you want. Then we send you an e-mail with a link to pay by credit card, or by "PayPal". Or, you can order by post and enclose a cheque in £ Sterling - overseas customers can buy a sterling cheque at most Post Offices.
You do not need a "PayPal" account to pay online by credit card. If you DO have a PayPal account you can use the "Send Money" option instead. This allows you to order and pay in one operation - this is the quickest method to use. Remember to indicate exactly which items you require. They will be sent to your address as soon as possible.
Unfortunately we cannot accept credit card numbers over the phone or Euro cheques any more, so please use one of the other methods. You can pay by cheque in pounds sterling using the order form. Clicking the link above marked "How to Order and Where to Buy" gives a list of stores and mail order outlets in various locations.
---
If you wish to contact Markle Associates Video:
We are not a big company, there is really just one person and we are happy to talk about things, so do not be put off. Sometimes you may get the answering machine when you phone but keep on and leave a message. Often we will pick up because we are just trying to put off crank callers.
Send us an email using this link or if you are having problems with that e-mail address send a message to:- marklejim&aol.com (replacing the & symbol with the usual symbol for at - @ - we have to write it this way on the website because of spam problems), making it clear please in the message title that you are responding from this web page. Another address is jim&markle.co.uk. Replace the & with an @ if you are entering that address by hand.

Or write to:
Markle Associates,
7 Welltower Park,
Ayton,
Berwickshire, Scotland,
TD14 5RR
Telephone: 0189 07 81991
We are usually able to answer the phone between 10:00 and 19:00, Monday to Friday. If you get an answering machine just leave a message and we will ring you back soon.
SPAM - We have confused the e-mail address above to avoid SPAM, please put in an @ if you wish to e-mail us.
We use an Anti-Spam system. If we have not replied to your e-mail within a reasonable time, please keep up the fight and send a simple e-mail with a railway title and a few words of text in it. We will e-mail you back ASAP. If all else fails you can phone us on 0189 07 81991. From outside the UK the number is +44 189 07 81991.